Ford SVT Lightning
Introduced in 1993 as a sports/performance-version of the F-150 in order to compete with the likes of the GMC Syclone and the Chevrolet 454 SS, the Ford SVT Lighting was developed by the Special Vehicle Team (SVT) in an effort to enhance the sporty, personal-use image of the Ford F-Series pickup. It shared its basic platform structure with the regular F-150, but custom modifications were made, including enhancing the Lightning chassis to increase rigidity. The stock Lightning was capable of achieving 0.88 g lateral acceleration, yet it was a full-sized American pickup truck with almost all the hauling and trailering capabilities of the parent F-Series. A 5.8L Windsor V8 producing 240 hp and 340 lb-ft of torque replaced the standard F-150 engine, and an upgraded Ford E40D automatic transmission equipped with an aluminum driveshaft was standard and the only available transmission.
2nd Generation Ford SVT Lightning History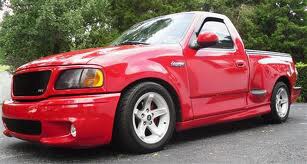 From 1993 to 1995, Ford Special Vehicle Team (SVT) took a break from engineering high-performance Mustang models, and developed the 1st generation Lightning to much fanfare. After a successful first run, Ford SVT unveiled the Second Generation Ford Lightning in 1999. This all-new SVT Lightning retained the spirit of the original, offering a powerful engine, lowered stance, and aggressive styling. Learn more about the impressive Ford SVT Lightning with our team at Anderson Ford of Clinton, and contact us if you'd like to learn more about a Ford SVT for sale, or our variety of Ford trucks.
2nd Generation SVT Lightning: Performance
The SVT Lightning shared many of the same chassis and suspension components of other F-150 pickup trucks of the time, such as front short-and long-arm suspension system with coil springs, solid rear axle, and five-leaf spring rear suspension. However, the truck used upgraded Monroe dampers from 1999-2001 then replaced with Bilstein dampers from 2002-2004.
While the 1999 and 2000 models were equipped with a 5.4L Eaton-Supercharged V8 that produces 360 HP, the engine was later tuned to provide 380 horsepower 450 lb-ft of torque from the 2000 Model Year and onwards. In 2001, the truck saw even more upgrades, including shortened 3.73:1 rear gear ratio and a more robust driveshaft. Goodyear specially developed a set of 295/45ZR-18 Eagle F1-GS tires with an improved F1 GS rubber compound for added grip. With these engine and drivetrain revisions, Car and Driver magazine drove a Lightning from zero to 60 mph (97 km/h) in 5.2 seconds. And that's not all! When this Ford SVT for sale hit the streets, it still  offered up to 1,350 lbs of payload capacity.
2nd Generation SVT Lightning: Design
The Lightning featured specialized 18″ wheels mounted with the aforementioned Goodyear Eagle F1 295/45ZR-18 tires. The Lightning's suspension system lowered the truck one inch in front and two inches in the rear, giving it an aggressive stance and clearly set it apart from your standard Stepside F-150. The second generation Lightning was initially offered in just Bright Red, Black, and White exterior colors. The 2000 Model Year brought the addition of the Silver color to the lineup. In 2002, True Blue, a very dark blue, was offered, but replaced with a lighter Sonic Blue in 2003. The 2003 Model Year also saw the introduction of the Dark Shadow Gray color. These trucks were manufactured at Ford's Ontario Truck Facility in Oakville, Ontario until its closure. 
Ford F-150 Raptor
Perhaps the most compelling performer among new Ford trucks is the F-150 Raptor, which is part of the Ford performance lineup. This model helps Clinton drivers drive off-road with confidence, thanks to features and highlights including:
Fox Live Valve Shocks
Available beadlock-capable wheels
Trail Control
High-Output Twin-Turbo 3.5L EcoBoost engine rated at 450 hp and 510 lb-ft of torque